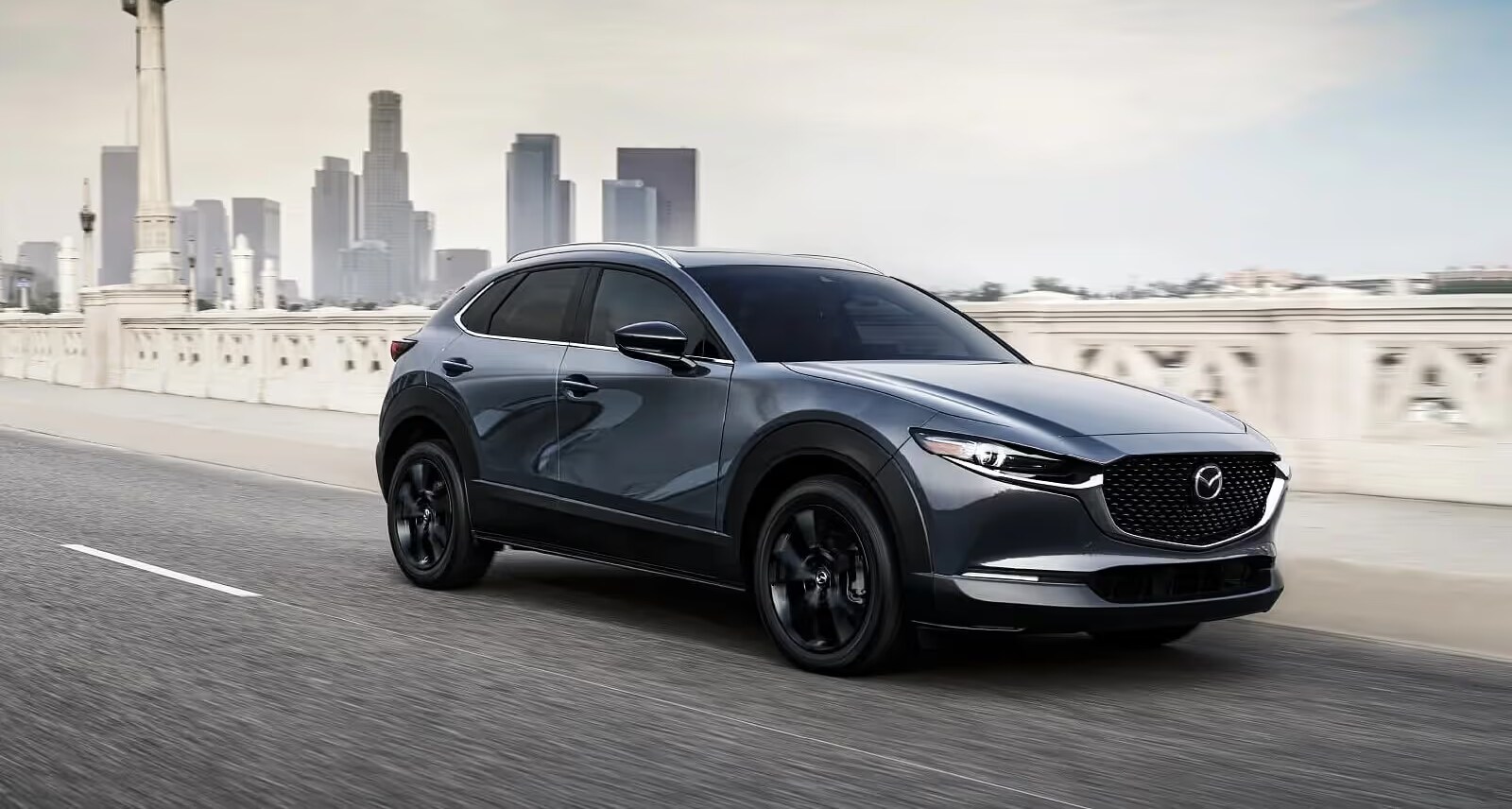 Scintillating, smooth, edgy, agile. These are all words that in some way convey the sublime experience of driving a 2023 Mazda CX-30. This SUV carries your senses to another realm with its comfort features, exquisite styling, thrilling performance, and uncluttered technology.
Performance
The 2023 Mazda CX-30 is a car with a racing heritage and silky performance in all circumstances. With up to 250 horsepower and 320 lb-ft of torque pumped out by an available SKYACTIVâ-G 2.5 Turbo engine, this crossover is definitely not slow.
Mazda cars are known for not just their acceleration, but their poise and precision. The Mazda CX-30 is no different thanks to technology such as G-Vectoring Control Plus and i-ACTIV AWDâ. These technologies conspire to makes this car precise and stable in all conditions.
Design
 The 2023 Mazda CX-30 is designed to impress. Chat with a
Pennsylvania Mazda dealer
at Auto Express Mazda to discover the style and functionality of this SUV's design. From vibrant colors, swooping lines, and artistic angles on the exterior to fine materials and seductive palettes on the interior, we're confident you'll enjoy every moment you spend with the Mazda CX-30.
Technology
The 2023 Mazda CX-30 integrates the latest driving technology in an uncluttered and driver-centric system that makes it easy to stay safe, focused, and on track.
MyMazda App with Mazda Connected Services lets you track vehicle status, find its location, and start it remotely
Available Boseâ 12-speaker sound system designed specifically to sound just right inside the Mazda CX-30
i-ACTIVSENSEâ Safety Technology with Front and Rear Parking Sensors, 360° View Monitor, and Smart Brake Support
Talk to our car dealers in Erie, PA to learn more about how these smart, intuitive features work.
Auto Express Mazda
Visit us at Auto Express Mazda to find out everything you might want to know about the 2023 Mazda CX-30. This vehicle is a step beyond what's merely necessary and creates an immersive experience for all the senses. Every aspect of this SUV is designed to deliver a positive experience and be an uncluttered joy on the road.
Visit our dealership today and prepare to be mesmerized by the achievements of this vehicle.